Applications are now open
We have reopened applications for Adopt A Spot through our new app! The Live Here Love Here app is available to download on the play and app stores for iOS and Android devices by searching Live Here Love Here.
You can also access it online by going to https://liveherelovehere.app or by clicking the button below.
PLEASE NOTE you will need to create a new profile on the App, even if you have an existing Live Here Love Here Profile.
New In October 2021!

The Adopt A Spot programme has grown to include four types of kits to help create cleaner, greener outdoor spaces. You can apply for one of four free kits:
Food for Thought - starter food growing kit containing pots, compost, seeds, watering can, gloves and handtools.
Rewilding - to increase habitats in small spaces. Kit contains a timber bird box, bat box and bug box and some native Irish wildflower seed.
Coastal Health - litterpickers, handy hoops, bags, gloves and sieves for monitoring microplastics on our beaches.
Litterpicking - litterpickers, gloves, first aid kit, sharps box, bags and bucket.
Kits can be selected via the app and will be available for collection during November.
Collection points will include:
Belfast, Bangor, Comber, Armagh, Newry, Dungannon, Fintona, Enniskillen, Omagh, Derry/Londonderry, Magherafelt, Antrim, Coleraine, Ballymena, Larne.
Is there an area near you that could use a bit of TLC? Could you commit to carrying out just four clean ups a year? Then get involved in our Adopt A Spot programme!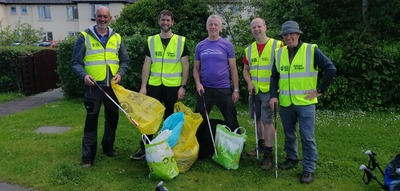 Adopt a Spot is a scheme that enables volunteers across Northern Ireland to adopt an area and look after it.
Adopters can be anyone, from families, community or youth groups, schools and sporting associations. Live Here Love Here will provide groups with an adoption pack containing all the equipment you need, including a hints and tips booklet on how to run a successful clean up.
The guys at Mid Ulster Walking Club take their litter pickers out with them on all of their walks across Northern Ireland - mostly the Mourne Mountains! Your spot can be as big or as small as you want it to be, it can even be the street you live on! It could be a mile of beach that always seems to be full of litter, an urban park, your local forest….anywhere is possible!
The Adopt A Spot Kit
When you register for Adopt A Spot you'll get a maximum of 5 litter pickers, 5 high vis vests, 5 pairs of gloves, bin bags, First Aid Kit, bucket, sharps box, hints and tips booklet and a certificate. All we ask is that you record your clean ups on your profile and agree to carry out 4 clean ups a year for a minimum of 2 years.
What's Next?
When you register for Adopt A Spot, we will approve your application. We'll then be in touch for you to book an appointment to collect the equipment from our office in Belfast. If it is not possible for you to get to Belfast please let us know.