Translink have teamed up with Eco-Schools to sponsor the Transport topic and encourage more schools to think about developing sustainable travel plans. Through this successful partnership we have produced downloadable classroom activity resources.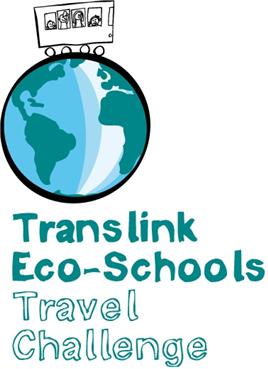 Eco-Schools is encouraging schools, wherever possible, to move away from car usage to more sustainable ways of getting to school. A large number of Primary and Post Primary schools involved have already started on the Travel Challenge but we would encourage all schools to make use of the new Education Resources which are linked to the Northern Ireland curriculum. For more information on the 2018-2019 Travel Challenge or to register your school's interest in the Travel Challenge please contact eco-schools@keepnorthernirelandbeautiful.org.
Our growing use of cars has a variety of environmental, social and health consequences. Some are highly visible and directly relevant to everyday life.
For example, accident statistics show that our roads are dangerous, while traffic congestion has adverse effects on our health and well-being. Other impacts are less immediately obvious but no less important. For example, the gases and chemicals released by engines make a large contribution to global warming and air pollution. Indeed climate change is fast becoming the greatest challenge we face in the coming century.
The more we use cars, the more the air becomes polluted. Exhaust fumes contain carbon monoxide, oxides of nitrogen, volatile organic compounds and particulates, all of which are harmful to health when released into the atmosphere. Soot particles cause lung damage, especially when they contain chemicals such as benzine.
Increasing amounts of urban traffic – partly caused by greater distances between home and places of work – have created fear of traffic. Because people feel less vulnerable driving compared with walking or cycling, more and more trips are being made by car. The resulting lack of exercise can cause problems for health and overall fitness.
On average, one in seven children suffers from asthma; this figure increases to one in three in inner city areas.
In slow moving traffic, pollution levels are higher inside cars than outside.
Cycling or walking briskly for half an hour a day can halve the risk of heart disease.
Sustainable transport is any means of transport which reduces fuel consumption, pollution and car use. This includes cycling, rail and bus transport, walking or even travelling by scooter.
Transport and schools
Young children today have far less freedom than their parents had at the same age. Fear of traffic and 'stranger danger', combined with the overall increase in general car use and ownership are leading to an increasing number of parents taking their children to school in the car. This has a number of consequences for pupils and staff, particularly in terms of pupil health and well-being.
Walking and cycling are excellent forms of physical activity and the journey to school can make an important contribution to increasing these activity levels. Patterns of activity are set in early childhood, so early lack of exercise can lead to a higher risk of future obesity, high blood pressure, poor psychological well-being and coronary heart disease. Walking and cycling can help children to gain confidence and make friends, helping both to increase independence and traffic sense. Current research also suggests that more active children arrive at school more alert and focused and achieve better academic results.
Results obtained by Sustrans from their Active School Travel Programme show that as manay as 81% of pupils in Northern Ireland would like to travel to school in an active, and therefore sustainable, way but only 55% of pupils currently do. This figure has increased from 40% of pupils over the last 3 years showing that with some guidance, advice and training massive changes can be made (see the Sustrans final report on the Active School Travel Programme 2013-16 for more information).

Curriculum links with transport can be made in English, Maths, ICT, science, design & technology, art and design as well as literacy and numeracy. The geography curriculum makes specific reference to road traffic, road safety and sustainability.
Each school is different, with its own local problems and possible solutions. Developing a school travel plan can help ensure the complete situation is considered and that appropriate action is taken.
School Travel Plans
Schools can meet the main requirements of the Eco-Schools transport theme by drawing up a school travel plan. A school travel plan is a package of ideas and actions drawn up by the school community to promote more safe walking, cycling and shared transport to and from school. In developing a travel plan, school communities show a commitment to promote sustainable travel.
Using a school travel plan, children, parents and school staff are encouraged to think about the environment and lead fitter and healthier lifestyles, through the promotion of Walk to School campaigns, using children's long term walking incentive schemes such as the excellent WOW (Walk on Wednesday scheme), and through the promotion of cycle training and the National Bike Week campaign.

Further information
For examples of how Eco-Schools have tackled transport issues visit the Case Studies section. The Partners section also provides details of organisations that will be able to offer your school help on transport issues.
Teaching Resources